7 Tips To Grow Your Email List
1. Include a content upgrade in all of your blog posts
What is a content upgrade?
A content upgrade is a piece of content that upgrade the content of that blog post, that you give for free in exchange for their email address.
For example: If in a blog post you show them "5 ways to do X" the content upgrade can be the step by step process or bonus ways to do it (or even how to do in the budget).
Follow these steps:
If you have a lot of blog posts (more than 20) without a content upgrade go to your website analytics and see what are the top 10 blog posts, start by including a content upgrade for them and keep doing it until you have them all.

You should create content upgrades on the topic of the blog post, to be attractive to your audience.

You may have 2 to 4 content upgrades that you use them in a few blog posts.
Is it hard to create a content upgrade for every single blog post?
No, it's not & you also do not need to create a new content upgrade for EVERY single blog post.
For example, you can create a content upgrade that is "Website Designer Kit for Beginners" which can be a PDF with step by step process to help people that want to become better website designers, understand how to pick fonts, colors, how to code, what pages to have on a website, different types of websites and so one.
Now, the same content upgrade idea can be offered in different blog posts like:
5 fonts website designers need to use in their client's website

Step by Step: How to create parallax scroll in a website

10 things I learned the hard way when I become a Website Designer.
Which means that you create an awesome PDF, that can be done in a morning or afternoon and can be used way & way!
Also, you can offer content that you already created, like a facebook LIVE recording you did about that topic to your group! If you need more content upgrade ideas to check out the related blog post below or if you REALLY want more content upgrade ideas, I have the right PDF for you!
Related blog post: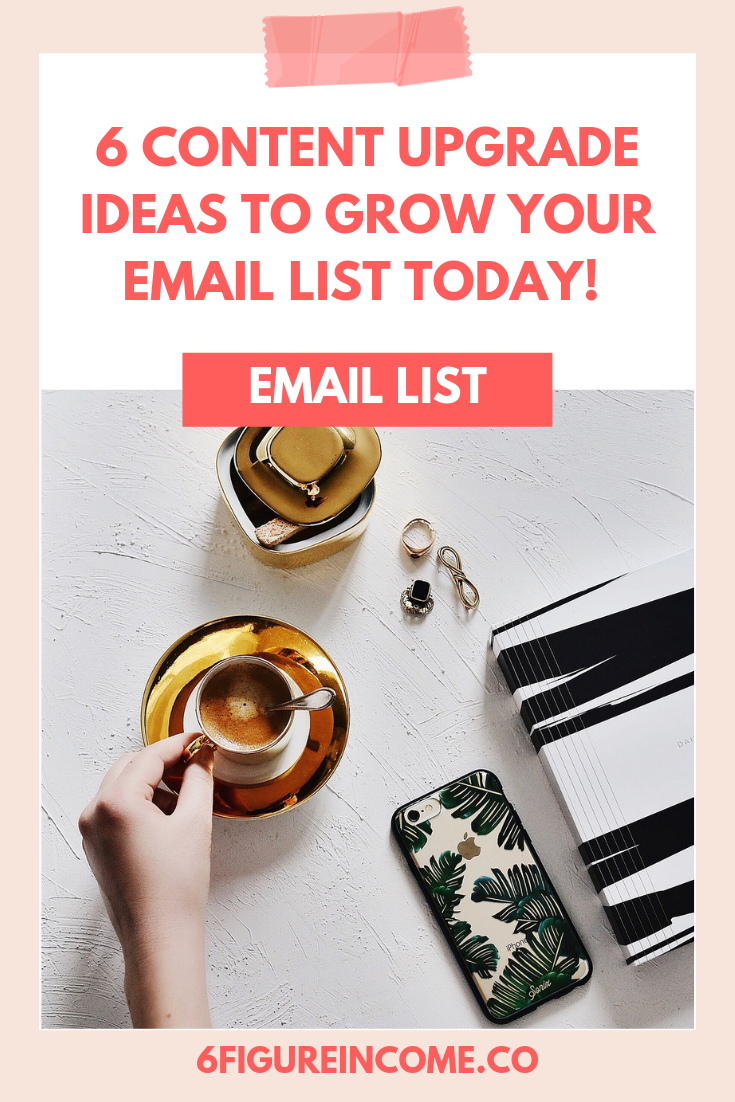 Run out of content upgrade ideas?
I have the right blog post for you!
2. Create an easy to follow email course about the main topic of your blog
Email courses are everywhere and there's a reason why people want to learn from their favorite creator how to do something e a daily basis.
Do not know if an email course suits your niche?
Food:
Vegan Recipes Week: 1 recipe/day for 7 days!

Go from I can barely make pancakes to a chef in a month: with daily recipes + tips!

Bake with chocolate email course
Mom blog:
New Parent Email course - everything you need before & after you have your baby + a few tips for each new month

Sleeping schedule email course
Arts & Crafts:
Crochet basics email course

1 DIY project/day for 7 days - use things in your home to fulfill your creativity
3. Guest post for someone in the same or relative niche
Guest posting is when you write a blog post and it's posted on someone else website, with a link back to your website or special landing page.
Nowadays guest posting as turned into different forms but it's still an evergreen & passive way to grow your email list through someone else's audience.
Just image if you post an awesome blog post in this website and in 2 years the website blows up and it's read by millions on the monthly basis, this could easily result in 100+ new email subscribers a day from something you did 2 years ago and probably only took you between 1 to 8 hours to write.
Related blog post: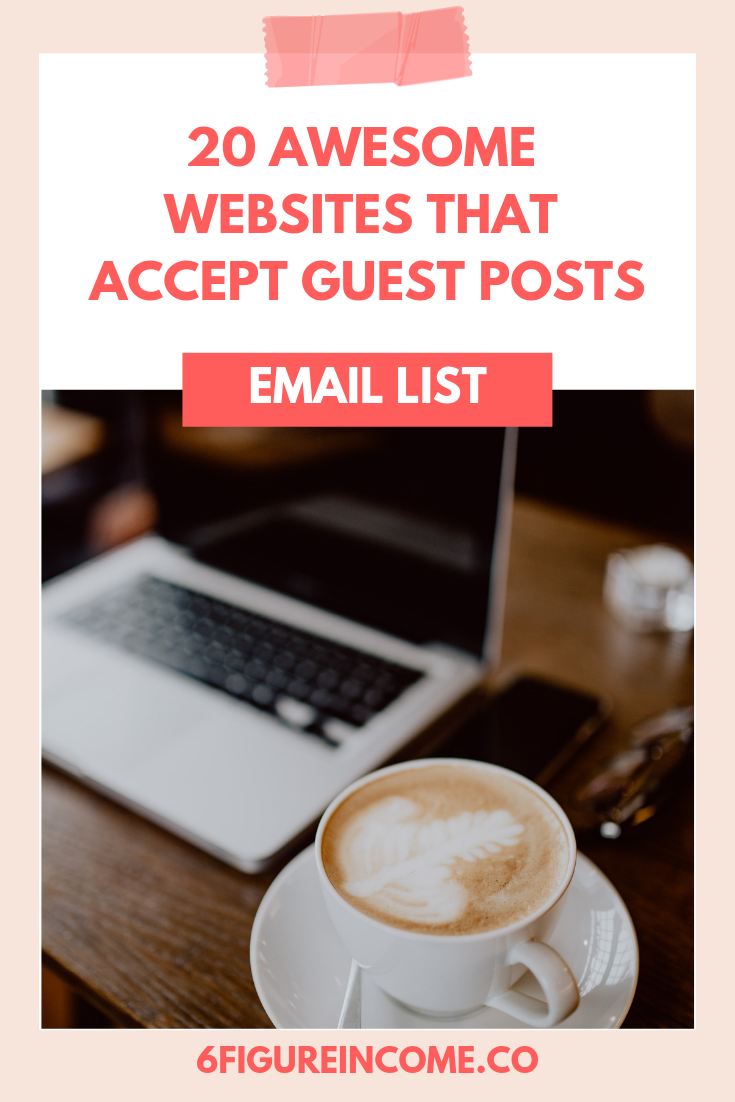 Find the best websites to guest post!
+ Free email scripts to send & expert guest post ideas
4. Create a giveaway
Giveaways work because of two things:
Your audience has the probability to win an amazing thing for you, this can be info-products, services or even physical products.

You grow your email list and reach people that didn't know you yet.
I like Kingsumo
There are two versions:
Wordpress users: it's $198 for lifetime access.
or

KingSumo website which is free, unless you want custom branding and Facebook pixel tracking, that's $19/month.
The free version is more than enough for you, believe me!
Go to KingSumo and type your email address and click "Start a contest"
Now you have 3 sections to complete, let's see each individually.
Let's dive in the first section: Giveaway Information, in here, you put in:

Title

Description of the prize and why they should opt-in

Date of start & end (also the date you email the winner)

Number of winners

Timezone (the landing is going to display a nice countdown to scarce the people to opt-in to your giveaway)

Your name & website URL

Prize name & value

Awesome mock-up images of the prize(s) → you can use Smartmockups to do it for FREE! *Disclaimer: it's an affiliate link but I LOVE their website*
Select the platforms you want your audience to use to share your giveaway (this is totally a personal taste, but the minimum platforms you should select are:

Twitter

Facebook

Pinterest

Email
THIS IS THE MOST IMPORTANT THING: Create your bonus entries, my suggestions are:

Share on Twitter (3 bonus entries)

Share on Facebook (3 bonus entries)

Like Facebook page (this is good for a simple 1 bonus entry and boosts your Facebook page to reach that person audience)

Share on Pinterest (4 bonus entries)
5. Create email challenges
What is it an email challenge? It's a challenge that happens through a time window, never more than 7-days and you deliver the challenge info and lectures through email.
You can host a challenge that is: How to get 500+ new followers on Instagram in 7 days, for that you have to:
Create a landing page with all the information and an opt-in to your email list

Then the introduction email, on Day zero is for them to write the total of followers they have now to then compare on the last day.

Then through 7 days, you give them step by step instructions with clear action for each day.

For example, Day 1: Find your Instagram theme and delete all of the posts that do not fill in that theme, if your theme is black & white, delete all color photos and then you can even convert them to B&W and use them later, it's a win-win situation. If you decide to stop showing personal stuff, like photos of your daily meals, house or even of your beautiful face, delete them and go to a stock photo to get business related photos, like this one.
6. Host awesome webinars
Webinars are a game-changer when you are talking about growing your email list.
Just to give you an idea a webinar can easily grow your email by 100 new people, isn't that amazing?
Do you want to know more about webinars? No worry! I will write a deep blog post about it in the future and link it back to this page.
7. Create shareable pages
What is a shareable page?
A shareable page is a thank you page but with buttons to help your audience share with friends & followers:
a webinar registration page

a content upgrade opt-in page
Example:
Thank you & Shareable page of List Beginner Kit:
This page is a cover page and it was created in Squarespace.
Redirect your new email subscriber to this thank you page:
To immediately redirect someone after they opt-in just copy the link of your shareable page and put it in the "Redirect to another page" and click "Save form".

It's done!
Now that you have your awesome email list you need to know what emails to send them!