How to manage affiliates to grow your business
Get affiliates is hard but managing them can even be harder, but I'm here for you!
This is probably the ONLY blog post about managing your affiliates that you will need to read.
Step #0: Find affiliates
How?
This is quite simple to accomplish, just purchase my email scripts that you can fill-in and send to the people you want to have promoting your products.
Step #1. Invite them to become affiliates
Send them an email with your business email address (looks more professional):
If you are a fan and you know stuff about them mention it (always feels good to listen and it may help your pick to decide if he accepts the affiliate offer or not)

Include why they are a good fit to promote your product or service (they may be in the same niche or related niche)

For example, if you sell a workout plan you may invite a food blogger to promote your product and they can even add a never posted before healthy food recipes PDF, if they buy your workout plan through their affiliate link.

The percentage that you are paid per successful sale:

Ebooks: 50% commission

Courses & Memberships: 30% commission

Services: 10% commission

Physical products: 5% commission

Ask them to reply to the email if they have questions about the affiliate program.
Step #2. Manage them to success
Manage the performance of EVERY SINGLE AFFILIATE on a monthly basis to see if they maintain the sales or if there's any peek of sales

in the case of an evergreen course promotion, your affiliate can create a flash sale launch with a few emails to create urgency and that can let to an amazing jump in sales. So if you see a jump of sales email your affiliate about it, that person can then help you teach other affiliates into doing what that person did.

if the affiliate goes to have stable sales each month to not make a single sale, email that person and ask what happen.

It could be vacation, sickness or lack of time, either way, motivate your affiliate into having a great next month by adding a bonus just for them, it can be just a simple PDF with resources about your course topic.

The conversion is also an important factor, see what is the affiliate with the most higher conversion number and email them to do a webinar with, because you already know that person can convert well.


Create affiliate contests where you offer the top 10 awesome products, this can be:

extra cash

electronics (TV, laptop, smartphone...)

vacation

gift card

coaching call with you

unique products (shoes that glow in the dark, standing desk with a treadmill...)

This has to have a timeline, for example, a week, where you daily share the top 10 and the difference in revenue that they brought or the number of people they convert.

This work great in big launches, if you have a $500+ product this is for you!

They are already going to be working insanely because of the high price tag of the product (the higher the price more revenue they make per sale)

Then they can even win something else?

and... they can say that they outperform a friend or a big marketer? Hell yes!

If this turns out to be something amazing for your business, you can make a monthly contest where the top 3 win prizes and you can have a private page in your website where you daily update the stats (like the last thing you do before you sign off for the day) and give access to your affiliates to create scarcity and motivation.

Don't forget to include the date and time it was updated and the amount of money they made this month so far.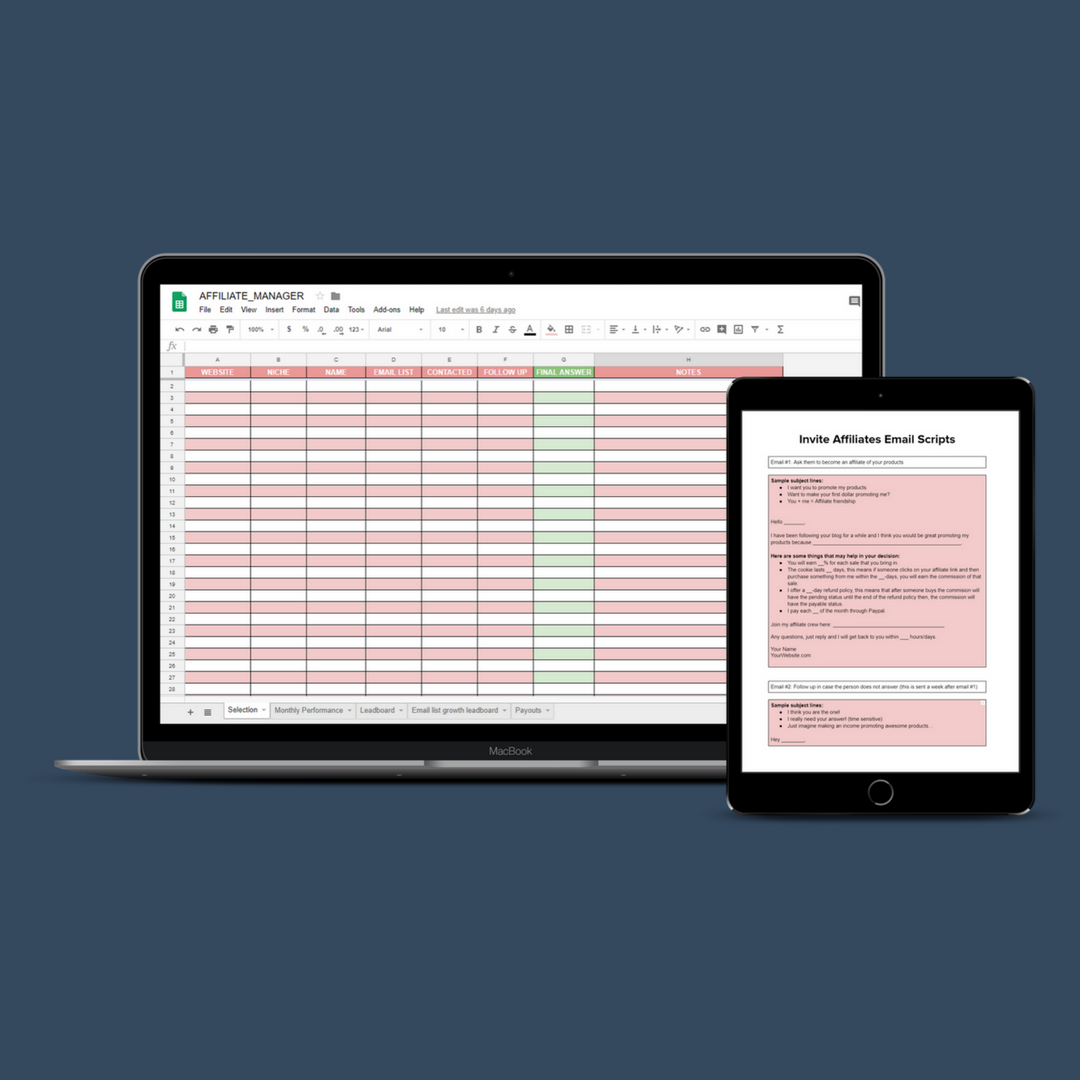 AND…I HAVE A SPREADSHEET THAT HELPS YOU MANAGE YOUR AFFILIATES…
…so they can work better to make YOU more money!
Bonus: Ways to make more revenue with the help of your affiliates
Flash launches:

This can be a 24-hour launch or have the maximum of 5-days launch.

You email your affiliates a week before and give them 2 things:

Email Scripts

Special Landing page URL to a freebie related to the product

They will send people there and they will get tagged: SpecialLeadProductA

Then on the launch, you use the emails you have used in the past to launch this course and send them to special sales page.

This is great to use when you are short on cash, you just email your affiliates and they quickly email their audience about your freebie, what does not love a good freebie?! A now you just made a bunch of sales from people that did not know you last week.

This is also great to get new email subscribers!


Webinars:

The next time you do a webinar for your audience (even if it is just to promote a product that you already have and it's a webinar you already performed before) email your affiliates a week before and tell them to promote it.

That can be done very simply with Samcart

You create the webinar registration page with Squarespace (or other)

Then you put the link of the page in your Samcart affiliates section

Your affiliates go there to get the link and when they do is going to include their special affiliate reference at the end, this way when someone joins in your webinar through that affiliate link they get a 30-days cookie, if the person purchase your product on the webinar or other products in that timeline the affiliate gets the commission!

This way you can attract more people that are probably interested in that topic (if they registrant is because they must have interest) into your email list.

You get statistically more chances to make more money because you have more leads.


Test a product with an affiliate webinar:

This is also a great technique to test a product, let's say you create this mini-course and you are not sure if you should take the time to go full deep and create a premium version of it. You can host this webinar to your audience + the audience that your affiliates attract and you will get:

feedback about the topic from people that love you and people that do not even know how to say your name.

the questions they may have also help you see what the people need, some may need more step zero content while other needs step five content.

and the most important conclusion is the money part, did the webinar convert as usual? Did you make enough revenue to make your decision about the premium course? What people enrolled the most, the ones already in your list or the ones that your affiliates got in?

A quick note, sometimes one webinar is not enough to test a product or topic, make at least four webinars, with you co-hosting two of them with someone that already actively writes about that topic and two alone.